Following my recipe for almond flour biscuits, I wanted to share a note on nut flours.
Once you incorporate nut flours into your Candida baking repertoire, it's a whole new world.
I began to eat things that I hadn't been able to allow myself in months.
It was so gratifying to feel like I had normal people options again.
The first time I bit into a piece of toast made from almond and hazelnut flours, I swear I heard a chorus of angles.
The Joy of Gluten-Free, Sugar-Free Baking
, by Peter Reinhart and Denene Wallace, is a great source for baking with nut flours.
This book, published by Ten Speed Press, has sparked a revolution in my kitchen.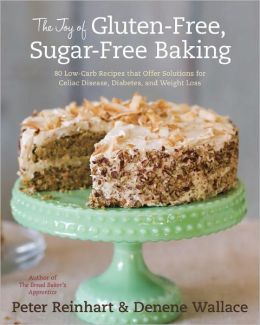 http://img2.imagesbn.com/p/9781607741169_p0_v1_s260x420.JPG
With pages filled with recipes for everything from basic sandwich bread to biscotti, from fudgy nutty brownies to focaccia, there are over eighty new baked goods to try. Some of these recipes are not entirely Candida Diet ready (the extra sugar in the Mango Muffins and the nutritional yeast required for their pretzels are both no-gos). However, most of what you'll find in this book are delicious ways to break your routine and get you out of your candida rut.
Most of the baked goods in this book call for the use of the artificial sweetener Splenda, or for the brand-specific Stevia In The Raw.
Splenda has not been found to aggravate candidiasis, but I am personally wary of ingesting it in large quantities since I'm not familiar with its chemical makeup or potential long-term effects.
I also choose not to use Stevia In The Raw because it includes minute amounts of sugars from corn byproducts in order to granulate the product.
These are choices each baker can make for his or herself, but whenever I use a recipe from this book I will modify it to be sweetened with liquid stevia.
All-in-all, if you're missing dessert badly enough to take matters into your own hands, this book is a great place to start.
The instructions are clear, the recipes work, and there are numerous pages dedicated to walking the novice cook through concise explanations of each of the alternative ingredients used.
I'll be posting an entry on my experience making bread from one of the recipes found in
The Joy of Gluten-Free, Sugar-Free Baking
, so check back soon!
For more information on
The Joy of Gluten-Free, Sugar-Free Baking
, plus information on where to buy the ingredients used in their recipes, please visit their
website here.